AltFreq's Daily Dreamscape Guide: Thursday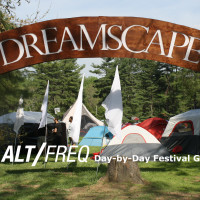 –Written by Kevin Madert
We're less than a week out from Badass Raves' annual festival season kickoff, so it seemed a good a time as any to give our readers the inside track on the festival. Where you should be, who you should listen to, what the heck else there is to do; if you're looking for assistance in planning your Dreamscape experience, Alternate Frequency is here to help. Friday's guide can be found here, and Saturday's is right here.

---
First Thing: Arrival at Camp Ramblewood is permitted beginning at 11am on Thursday, May 5. Attendees are encouraged not to arrive earlier than this, as they'll most likely be turned away and told to return at 11. Music will begin poolside in the aptly named Poseidon's Playground at 1pm, so those looking to max out their weekend should plan accordingly. AltFreq also reminds all attendees to thoroughly review the rules & regulations – some of which have changed since last year. The biggest change involves alcohol; none will be allowed to be brought onsite, but there will be adult beverages available for purchase each day until 2am. The full list of allowed/prohibited items, plus plenty of other important info, can be found on the Dreamscape website -> http://dreamscapefestival.com/info/.
Headliner Happenings: Sultry future-bass darling Psymbionic takes the stage in the City of Dreams at 6:45pm as the first headliner of the night. Beyond his work with Bassnectar on Into The Sun, the fast-rising musician has a bevy of crisp-produced, headbob-inducing tunes at his disposal – take a listen to his most recent effort Visions below if you seek aural proof.
Other AltFreq-endorsed performances include a poolside throwback set from loveable local Mike Saga (7pm, Poseidon's Playground), in addition to mainstage turns by Space Jesus (7:45pm), Buku (8:45pm), and ill.Gates vs. KJ Sawka (9:45pm) taking us back to a wild Saturday night at Big Dub Festival this past August. Check out the full Thursday lineup by clicking here.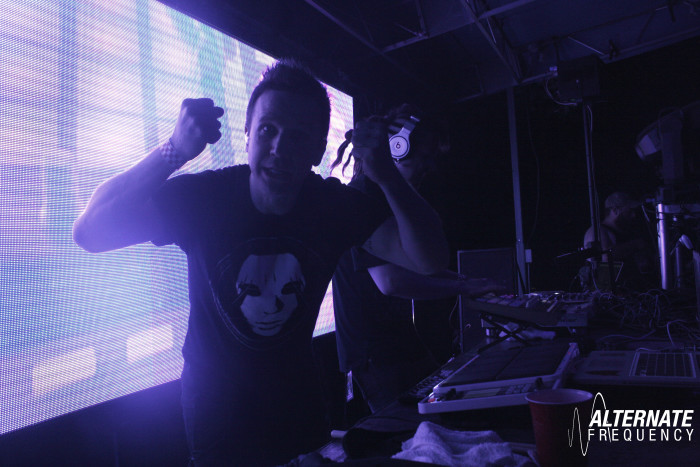 Join AltFreq in closing out the City of Dreams with this pair of dashing gentlemen
Alternatives: In the Badass tradition, Dreamscape will offer non-musical opportunities galore throughout the weekend. Many of them won't have scheduled times until the festival begins, so be sure to grab a program upon arrival. All weekend long you'll be able to stop into the Zendo Lounge and relax with calming music, destimulating visuals, and comfortable seating, all in a low-stress, no-judgement environment. Guided meditation, yoga, live painting and more can also be found here.
Wild Cards & Random Thoughts: For the first time, Dreamscape will have daily themes – encouraged but by no means mandatory. Thursday is Onesie Party day, so plan accordingly (and find our AltFreq photographer to document your fresh single-piece digs!). // We're keeping a sharp eye on the 11pm timeslot in the Temple, where a "Secret Set" is currently scheduled. // AltFreq recommends setting aside some time to explore the beautiful grounds of Camp Ramblewood & how the creative minds and skilled hands of the Badass crew have transformed them to create a truly immersive festival experience. The small & tranquil lake, nestled away in the far corner of the festival site, is of particular note.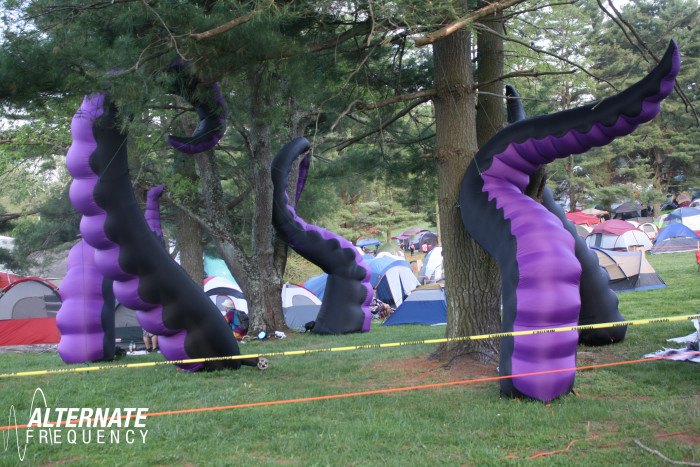 Underground octopi abound…
---
Dreamscape tickets are still available for purchase -> http://ow.ly/4nhjmJ. The festival is over 75% sold out, so if you're on the fence now may be the time to hop off.
Connect with Dreamscape: (Facebook / Twitter / Official Site / Event Page)