AltFreq's Daily Dreamscape Guide: Saturday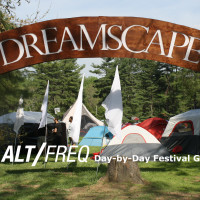 -Written by Kevin Madert
We're less than a week out from Badass Raves' annual festival season kickoff, so it seemed a good a time as any to give our readers the inside track on the festival. Where you should be, who you should listen to, what the heck else there is to do; if you're looking for assistance in planning your Dreamscape experience, Alternate Frequency is here to help. If you somehow made it here first, find our Thursday guide here and our Friday guide here.
---
First Things: The best thing you'll witness all weekend kicks off at 11am, as 1,000 Drunk DJs take over Poseidon's Playground for two hours and one entire bottle of Johnnie Walker. If you're a Saturday-only kind of partier, one day tickets are yours for the purchasing, and gates will open at 11am to receive you.
Headliner Happenings: Whether you're arriving on Saturday or wrapping up a weekend-long revel, Badass is pulling no punches for the festival's last hurrah. If you're a trooper and you're up in time, trap wunderkind Big Makk (1pm, Poseidon's Playground) and unpredictable glitch peddler Clozee (3pm, Poseidon's Playground & 8pm, City Of Dreams) will soundtrack your early afternoon. Stick by the pool and you'll catch our spotlit b2b of the weekend in Jantsen & Dirt Monkey (6pm, Poseidon's Playground) – if you haven't heard their collaborative works, you're in for a bass-heavy treat.
Once you've dried off, thrown on your evening attire, and hopefully eaten some food (you have been eating all weekend, right?), your musical options are multitudinous.  The City of Dreams is your one stop shop if the off-brand wonky wobbles of Bleep Bloop (9pm), the hard-edged basslines of Must Die (10pm), or the low-key vibes of Chill Harris (11pm) are up your alley.
Local Legends: Another day, another handful of massive sets from unlikely sources. We're torn in the witching hour timeslot – 2Rip will take to the decks in the City of Dreams at the same time friend of the blog Choppy Oppy turns the Temple into a funkified dancefloor (that's 12am for the uninitiated). AltFreq will see you at both sets, but we don't envy you in deciding which you'll spend the bulk of your time enjoying. The 1am slot is less of a decision and more of a mad dash to the City of Dreams for The Banditz. With a diverse catalog and admirable adaptability, you can bet your night will end on a high note courtesy of these DC mainstays.
Wild Cards & Random Thoughts: Saturday's theme is Super Heroes; find us to photograph your best imitation of Iron Man or Deadpool or Bernie Sanders, etc. // If you've missed out on Dreamscape's multiple theme camps, now's the time to remedy your mistakes. We recommend Camp Rollz Flow Arts if gloving, poi, and various other raver arts interest you, and Camp Kink if your inner desires are pulling you in directions you may not quite understand, but are interested in exploring. // Party to your heart's content tonight, as exodus from Camp Ramblewood isn't a requisite until 3pm Sunday afternoon. // Be sure to follow us on all your friendly neighborhood social media outlets to ensure you don't miss a single post-Dreamscape update: (Facebook / Twitter / Instagram / Official Site)
---
Dreamscape tickets are still available for purchase -> http://ow.ly/4nhjmJ. The festival is over 80% sold out, so if you're on the fence now may be the time to hop off.
Connect with Dreamscape: (Facebook / Twitter / Official Site / Event Page)