New Tune Tuesday (Dreamscape Edition)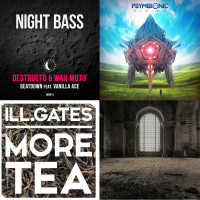 -Written by Kevin Madert
A few short days from now the first sets of Dreamscape 2016 will be echoing through the undulating, tree-dotted hills & of Camp Ramblewood. Lucky for us, plenty of the artists playing this year's festival have been hard at work churning out new tunes – just in time to unleash them on the masses come May 5-8. Read on to hear the latest from some of our favorite acts on the lineup.
---
Destructo & Wax Motif Ft. Vanilla Ace – Beatdown
Kicking off the list is, appropriately, a recent song from an artist playing Dreamscape. On "Beatdown,"  Holy Ship don and purveyor of oft-fantastic four on the floor Destructo teams up with capable friends Wax Motif and Vanilla Ace to deliver a winner. The dark tune is quintessential Destructo, packing a serious punch in the breakdown but refusing to view itself through overserious eyes. Attesting to this is the well-sourced hook – a few lines of poignant life advice adapted from "G'd U" by Snoop Dogg helmed hip-hop trio The Eastsidaz. Keep it real and get gangsta'd up with the HARDfather at Poseidon's Playground to close out pool party numero uno (9pm Friday).
Connect with Destructo: (Facebook / Twitter / Soundcloud)

Psymbionic – Vision LP
If you're in the market for homegrown future-bass, melded in equal measure with funk, dubstep, and trap, and awash in an intangible essence you can chalk up to anything from production acumen to pure inborn musical talent, Vision will float your aural boat. Thanks in part to the eight-track offering, Psymbionic has carved out a cozy spot for himself that far outpaces the praise (deservedly) awarded him after his collaboration with Bassnectar appeared on the latter's latest LP Into The Sun. When he goes it solo, most notably on "funky bassline" endowed album opener "Retroactive," his penchant for in-studio exploration shines. In the other headphone, collaborations with the likes of Space Jesus ("The Last Quasar"), Of The Trees ("2 Wicked") & Cloudchord ("Vision") prove he probably received high marks in elementary school for "playing well with others." Each collaborative effort allows the featured guest room to flex their own creative muscle without smothering Psymbionic's style; the result is an album where multiple voices shine individually even as they speak the same dialect. Visions is available free of charge, so you've no excuse not to familiarize yourself ahead of Psymbionic's set in the City of Dreams (Thursday, 6:45pm).
Connect with Psymbionic: (Facebook / Twitter / Soundcloud / Official Site)
Ill.Gates – More Tea
As much of the electronic music landscape continues to homogenize, it's easy to stare in wonder at the acts who can put out unique work with even a modicum of regularity. "More Tea" is the latest in a litany of examples populating ill.Gates' repertoire placing the San Francisco-based bass baron in the latter category. Once atmospherics / spoken word set the stage, the inclusion of natural>augmented sitar give the track an unshakeable Eastern feel, almost like an Indian-borne instrumental hip-hop beat. On first listen you may not know where things are going, but this tune piques in you an unshakeable desire to find out.  With "More Tea," as in most of his work, it's clear to the ear that ill.Gates is making music to challenge himself as much as for any other reason. Plan on closing out the City of Dreams Thursday night with the inimitable ill and his recent partner in crime, KJ Sawka (9:45pm-close).
Connect with ill.Gates: (Facebook / Twitter / Soundcloud / Official Site)
Buku x G Jones – Meridian
A pair of gentlemen well attuned to the low end of the spectrum team up to turn in a crisply layered, fully realized future trap roof-rattler on "Meridian." Along with G Jones – who you can see in a highly anticipated b2b with Minnesota at Big Dub this August – Pittsburgh native Buku gives us here a grandiose intro and build (those synth rollers that kick in with the hand claps are clean as can be) that soon flips into a standard-yet-huge breakdown. This is a tune designed to fill any space it's played in; catch Buku at 8:45 in the City of Dreams for hopeful confirmation.
Connect with Buku: (Facebook / Twitter / Soundcloud)
Bleep Bloop – All I Wanna Do
From sorta wonky future trap to future trap far enough out there one might need a map to find it, we spotlight a tune from the wunderkind of weird. Released on April 20th for no reason in particular, "All I Wanna Do," adheres to some standard tenets of the Bleep Bloop School of Production – relatively short, unabashedly quirky, and raw as an uncooked steak bouncing around in a subwoofer. Comparatively standard moments in the opening segments give way to abrasive tones, unconventional slices, and general mayhem to close things out. A refrain provided by The Notorious B.I.G. ties things together & paces the quick-moving tune. Expect an at times challenging, often high-concept & unwaveringly heavy affair when Bleep Bloop hits the stage in the City of Dreams (9pm Saturday).
Connect with Bleep Bloop: (Facebook / Twitter / Soundcloud)
---
Dreamscape tickets are still available for purchase -> http://ow.ly/4nhjmJ. The festival is over 80% sold out, so if you're on the fence now may be the time to hop off.
Connect with Dreamscape: (Facebook / Twitter / Official Site / Event Page)