Better Know a Genre: Five Post-Rock Bands You'll Probably Love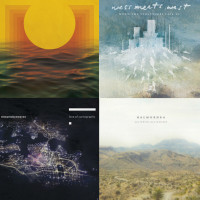 -Written by Kevin Madert
Earlier this week, Explosions in the Sky put out a highly anticipated record called The Wilderness. It's less a step in any specific new direction than a pivot around the central themes and styles that have defined their career – one foot stays grounded in their post-rock roots while the other spins through sonic inspirations ranging from spacey electronica to down-home folk.
Listening to The Wilderness a few times through inspired a digital crate-diving adventure courtesy of Spotify. After much clicking around, and even more headphone isolationism, here are a few bands amply equipped to satiate your post-rock craving. Some should be familiar to long-time fans of the genre, while others may be brand new to readers (much as they were to this writer).
---
Wess Meets West
Hailing from White Plains, NY, this quartet channels the grandiose soundscapes of EITS and the dynamic contrasts & tempo shifts of And So I Watch You From Afar in equal measure. Birthed from a studio project of guitarist Sam Stauff in 2005, the group's discography has featured several full-lengths and extended plays that showcase a steadily solidifying lineup and a consistently honed sound. Must-hear: When The Structures Fail Us is the group's most recent full length; stream "These Will All Be Stories" below.
(Spotify / Facebook / Bandcamp / Official Site)
El Ten Eleven
Rounding out the rather small category of "Bands named after aircraft" – SR-71, anybody? – this duo has certainly soared high and far in their decade-plus career (had to do it). Armed variously with doubleneck guitars, fretless basses, drum kits, and a bevy of effects pedals, the pairing of Kristian Dunn and Tim Fogarty wow in the studio and on the stage with a style recognizable to the trained ear a few seconds into any given track. Must-hear: While the admirable Fast Foward is El Ten Eleven's newest LP, the lengthy tune below is the title track from the band's previous album, Transitions – one that neatly sums up the thrust of the duo's work.
(Spotify / Facebook / Twitter / Official Site)
sleepmakeswaves
By chance not choice, this four-piece is the only member of this list based outside the US. And we're talking way outside – they formed in Sydney, Australia in 2006. Much like If These Trees Could Talk (see below), harder styles feature prominently in sleepmakeswaves' brand of post-rock. Glossy synths often compete with jagged guitars at the forefront, but nuance also has its moments throughout their catalog. Must-hear: "Emergent" possesses all the aforementioned traits, listening like a less mathematical Sky Eats Airplane tune; find it on the group's most recent album Love Of Cartography.
(Spotify / Facebook / Bandcamp / Official Site)
Balmorhea
Lush piano arrangements and orchestral accompaniments are the calling card of this instrumental six-piece, who insist you pronounce their name bal-mə-ray. Straddling the intersection of reflective folk, emotive piano, and oft-ceaseless post-rock, the group has concocted a sound few others are emulating. Solid release after solid release in tandem with years on the road have introduced this sound to the world, and endeared them to fans far from their home of Austin, TX. Must-hear: "Settler," the first song on the sextet's sophomore LP All Is Wild, All Is Silent is an adventure in tempo, dynamics, and gorgeous instrumentation.
(Spotify / Facebook / Twitter / Official Site)
If These Trees Could Talk
To close things out, we find ourselves in Akron, Ohio with a band that falls on the periodic table of post-rock's metal edge. Segments of atmospherics and slow-building tension segue into hard-charging breakdowns and bridges that wouldn't be out of place on a Tool b-side. If you're aurally aroused by the exclamatory as much as the ethereal, this quintet has an EP and two full-lengths to bend your ear. Must-hear: The group's 2009 debut LP Above The Earth, Below The Sky is rife with gems. Check out "What's In The Ground Belongs To You," a quick-developing tune that closes with a solid minute of ripping riffage.