Tor's "Blue Book" Well Worth The Wait (Review)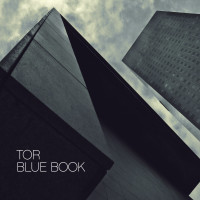 –Written by Kevin Madert
From the opening moments of Blue Book, Loci Records mainstay Tor invites the listener into a carefully crafted world of monolithic ambience. Picking up right where 2012's Drum Therapy left off, the lush minimalism present on the Canadian producer's sophomore full-length is all-absorbing.  With attention to detail uncommon even in the nuance-laden sphere of downtempo his work occupies, he's able to create a ten track trip-hop smorgasbord delectable in both its delicacy and digestibility.  Headphones are all you need to start this 45 minute aural journey, buoyed along by a diverse coalition of instrumentation & driven forward by an oft-shifting, ever-present beat.
A gaggle of bells & chimes in Blue Book, setting the stage early for the smorgasbord to follow. The stylistic palette of percussive phrases is formidable. The deep-thudding kick rhythm on "Two Suns" calls up old school hip-hop vibes; snaps & tribal breakdowns abound throughout "Days Gone,"; more standard electronic pads and cymbals close the album with a slow march on "Aura Lore." Every track could be singled out for its backbeat, and I'm struggling to imagine how big a room housing every piece of percussion Tor employs herein would have to be.
With the framework laid, everything atop it seems to flow with organic aplomb. Eastern-influenced guitar noodlings kick off "Myth," and strings offer solace in the dying moments of "Vaults." Pitched percussion in the form of xylophones, glockenspiels, and certainly more in between splatters the sonic tapestry on "Loop Theory." Even in more electro-tinged moments, like the pitter-patter synths & subtle oscillations on "Cymbol," the primal undertones that paint the album shine through. While their deployment is more scattered, vocals also play a sizable thematic role. Sliced-up snippets of forlorn laments give "Aeris," an ethereal eeriness, and barely fathomable chants dance below the surface in "Sunyata."
Above all, Blue Book showcases Tor's authoritative mastery of mood. A swift ride when taken in as a whole, the individual pieces seem to unfurl with a slow, dizzying grace. Branching out with subtlety to touch on new concepts while holding strong to the quality-first production tactics that defined his debut, this is an album you'll still be unpacking after dozens of playthroughs. If that's not a listener's dream, I'm doing this whole music thing wrong.
---
Blue Book can be found wherever music is sold; stream the full album via Bandcamp below.
Connect with Tor: (Facebook / Twitter / Bandcamp / Soundcloud / Official Site)