Opiuo Traverses Sonic Terrain New & Familiar on "Omniversal" (Review)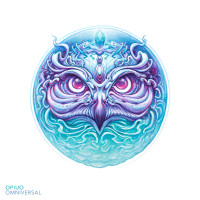 –Written by Kevin Madert
Few artists have a hold on my heart (and ears) quite like Opiuo. His wobbly, wonky, oh so funky brand of deep bass glitch-hop reeled me in, and his ability to innovate sonically within his own creative space has kept me hooked ever since. It follows, then, that Omniversal shines as a fresh take on the themes and styles that have long defined the Australia-based producer's work. Picking up this album equates to obtaining a ticket on the Mid-Tempo GlitchFunk Express – dress code casual, dance parties inevitable.
Unchained openness colors Omniversal's atmosphere, a feeling often lacking in the rigid, snapped-to-grid world that much of modern-day EDM occupies. The entire affair is awash in organic warmth, as two year's experience touring the world alongside a full-fledged live band seems to have seeped over into the studio. Couple these stylistic slam dunks with production slicker than an oil-soaked Slip-n-Slide and you're rewarded with tracks like "The Pepper," (a horn-heavy tune with non-traditional percussion to spare) or the saxual "Jelly," where quiet breathable moments that wouldn't be out of place in a jazz lounge counterbalance a typical deep-grooving Opiuo bassline.
"Typical" is a relative term in this instance. Plenty of quintessential Opiuo moments dot the landscape, but just as often the album plumbs the depths of various atypical genres. Even with minimal deviation from his overarching origins, listeners are offered sultry, churning low end with the appropriate amount of spooky synths ("Airy Watson"), a wildly funky marriage of electro-glitch and g-house (the scintillating bass melodies halfway through "Pumpernickel" would fit right in on a late 90s Snoop Dogg b-side), and even soothing, soulful introspection ("Pockets," closes the album with talkative, muted guitar tones & a lush array of instrumentation in the vein of Sunmonx, a side project featuring Opiuo & guitarist Austero).
A third of the album benefits from similar collaborative acumen familiar to long-time listeners. "Jelly" and "Pumpernickel" respectively feature an impassioned vocal turn from Texture Like Sun and artistic assistance from Hypnotech (coincidentally a co-founder of music site Addictech, where much of Opiuo's early music first appeared). Guest voicework courtesy of frequent Opiuo collaborator Syreneiscreamy ("Kurdilly Boof"), plus a poignant verse by Little Dreamer on toned-back album highlight "Paint The World," keep things unpredictable & set the stage for crowd-pleasing live performances.
Arguably the best music moves you no matter the setting, and Omniversal is dualistic dance music of the highest caliber. The album is an ideal soundtrack for a one-man marathon study session, kicking off a groove and locking it in for nearly an hour. Yet every song feels equally intentioned for packed nightclubs or horizon spanning festival crowds. Supreme confidence in studio, paired with an air of playful nonchalance  – at the end of the day, isn't it obvious how much fun this guy's having? – make it possible for this collection of tunes to pull double duty.
Rife with the expected standing alongside plenty of peppered-in surprises that keep you on the tips of your surely tapping toes, Omniversal is a start-to-finish funkified romp. Atop that, it's physical evidence of an artist with a time-honed sound, a penchant for innovation, and the laudable ability to combine the two in seamless fashion. Watching the Opiuo project flourish in maturity feels like an esteemed pleasure, an evolution listeners should be tickled to witness. While it's unclear where one goes after exploring the omniverse, it's a low-risk bet this audacious New Zealander can take us there – dancing all the way, of course.
---
Omniversal is available from most major music outlets, but AltFreq suggests you purchase it from Addictech (as mentioned above, the first spot to host Opiuo's music back in the Slurp & Giggle days). You can also stream the album below via Opiuo's Bandcamp.
Connect with Opiuo: (Facebook / Twitter / Bandcamp / Soundcloud / Official Site)