Get Ready to #WatchTheMoonrise With Full Lineup Playlist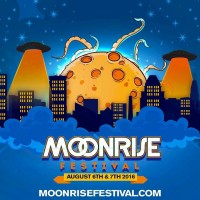 –Written by Kevin Madert
This August, Pimlico Race Course will again be the site of now-annual electronic soiree Moonrise Festival. For year number three Steez Promo diversified their aural portfolio, bringing on heavy hitters from the house & techno scene to compliment a boatload of bass-focused acts.
To keep you up to speed on the whole shindig, we've compiled one of our world-famous* playlists, covering the lineup from top to bottom. On top of that, we've hand-picked our can't-miss artists & given them each a few words. Come August 6-7 you'll wow your friends and snag the festival sweetheart of your dreams with your sexy superior knowledge. Read on!
---
Claude VonStroke
The addition of this Dirtybird co-founder & purveyor of deep-grooving four on the floor brings a top-tier house/tech act into the Moonrise fold. His fervent following seems to grow in size with each trip through the DMV. With sage stage presence, honed crowd control, and the beard game to tie it all together, it's not hard to see why.
Connect with Claude VonStroke: (Facebook / Twitter / Soundcloud / Official Site)
Caspa & Rusko
Bass music lovers need no reminder of this one. Even if the date isn't circled so vigorously on your calendar it's bled through to December, you'd do yourself a disservice not to check out these living legends b2b on the decks. Look at it as the throwback festival set of 2016 a la Outkast a few years back (except, c'mon, way better). Study up with the full Fabriclive37 below.
Connect with Caspa: (Facebook / Twitter / Soundcloud / Youtube) Connect with Rusko: (Facebook / Twitter / Soundcloud)
Justin Jay
Minimal sonics, maximum groove; if I only had four words to throw Mr. Jay's way, they would be these. On the up from the moment he began his musical career in his freshman dorm room, this guy is better versed in the low end than many of his dubstep counterparts. Crafting a lot out of a little is tough enough, but making minimalism sound good – nay, danceable as all get out – is a feat Justin Jay accomplishes with conviction.
Connect with Justin Jay: (Facebook / Twitter / Soundcloud / Official Site)
Lee Foss
If you were concerned about the sanctity of your underground cred in attending a festival with headliners like Zedd & Tiesto, Moonrise has your back with bookings like this one. Lee Foss' career dates back to the early 2000s, with releases galore on labels like Wolf + Lamb, Culprit, and Hot Creations – a label he helped found. With that resume you can bet he's versed in curating solid sets, so we recommend you don't miss his.
Connect with Lee Foss: (Facebook / Twitter / Soundcloud)
Emancipator
A textbook no-brainer, long-time blog favorite Emancipator is the perfect respite from all the in-your-face loud noise business you'll spend most of Moonrise being assailed by. An impressive back catalog – including tunes from latest LP Seven Seas – will soundtrack the adventure. Accompaniment by string shredder Ilya Goldberg will take the performance to that oft-mentioned "next level." If you enjoy intricate, beautiful trip-hop, or you just want to see this writer openly weeping, this is the set for you.
Connect with Emancipator: (Facebook / Twitter / Bandcamp / Official Site)
Unlike Pluto
Even for 2016, this up-and-comer from Atlanta is all over the map. Part house, part future, part tropical, part bass, and essentially all solid, Unlike Pluto has found a winning mix from a healthy amalgamation of styles. Sets like these are the most unpredictable, because you really could hear anything. Ride the genre roller coaster with us and the guy who bears no similarity to a dwarven celestial body this August.
Connect with Unlike Pluto: (Facebook / Twitter / Soundcloud / Instagram)
---
Moonrise Festival will take place August 6 & 7 at Pimlico Race Course just north of Baltimore, MD. Tickets are currently available but moving fast; be sure to check out the hotel packages if you're coming from afar / don't feel like going home.
Connect with Moonrise Festival: (Facebook / Twitter / Instagram / Official Site)