Diversity, Maturity, General Saxiness Color Moon Hooch's "Red Sky" (Review)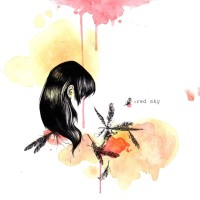 –Written by Kevin Madert
Kicking off your career with a solid LP isn't unheard of. Hell, vaulting over the sophomore slump & releasing a well-received follow-up isn't always a surprise either. But here we are, three albums deep, and New York based brass-blowing darlings Moon Hooch show no signs of plateauing. Red Sky is musical growth personified, tracked & mastered; full of diversity inspired by maturity and risk-taking inspired by the confidence said maturity entails. Of course, it's also endowed with the frenetic energy that made Moon Hooch & This Is Cave Music such stellar albums. Convinced yet? No? Yeesh, and I was hoping I could step out early on this one…
Wenzl McGowen, Mike Wilbur and James Muschler let us know right away we're in for a ride. The album opening title track begins with the classic dueling sax dance McGowen & Wilbur have peddled & perfected since their NYC subway platform days. Before you can say "Where's that maturity you've been bandying about?" the tune segues into a melodic chorus-like segment with overlain horns & big-room drums galore. Without sacrificing their signature raw energy, the trio are tightening the screws in the studio – a delicate dance they accomplish with authority.
It's less a reinvention than a conversation between experimental sonics and the group's pre-established sound. Take "That's What They Say," featuring low, dancing bass notes beneath a lyrical sax line. Behind it all the trained ear can hear subtle synths, certainly noticeable but by no means overwhelming. Same with "Shot," where quintessential Moon Hooch melodies ring out next to charged lyrics & a barely-there bass undertone. Incorporating these new elements in such a seamless fashion bolsters what's already there, ensuring far more hits than misses.
Within the sax-and-crates framework they've designed, diversity runs rampant. "Sunken Ship," is a contemplative jaunt, carried by subdued bass & drums that underscore Wilbur's somber lyrics, punctuated occasionally by Tipper-esque chitterings. After a Moogy intro as out of left field as its title would indicate, "Rough Sex" drops into a throbbing bassline groove complimented by a staccato sax melody. The upbeat "Booty House" could soundtrack a lost stage on Sonic The Hedgehog, its light-hearted phrases propelled by Muschler's frantic drumming. Tracks like "Psychotubes," with its slow-trudging, relentless rhythms, and "Something Else," which features several cacophonous breakdowns clawing at the track's rough edges, reaffirm Moon Hooch's headbanging cred and perhaps come closest to emulating the trio's live antics.
This is the third Moon Hooch album I've reviewed here at AltFreq. In between I've been lucky enough to see these guys maybe a half dozen times (including this one time in Vienna, VA). As each performance has impressed more than the last, and each album has seen the group expand their repertoire with a self-concious grace, it's been hard not to wonder where the ceiling is. The impressive, inspired work on Red Sky suggests it's still a long way off.
---
You can purchase Red Sky wherever music is sold – including directly from the band. Stream the album in full below via Spotify.
Connect with Moon Hooch: (Facebook / Twitter / Youtube / Official Site)