Frequencies of 2014: Mix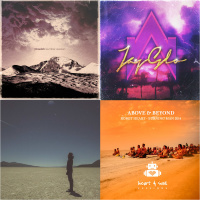 –Words and list by Kevin Madert
This is another installment in the "Frequencies of" series. The music that got to me most in 2014 – that got my head nodding, that sent goosebumps prickling across my skin, that had me screaming at the top of my lungs – placed in a handful of semi-specific categories (for organizational purposes more than anything else). Am I telling you these are the best things released all year? Certainly not. Am I telling you they're all great, and suggesting you check them out in order to grasp a more complete picture of the year in music? Absolutely.
---
Phaeleh – Slumber Sessions
Recorded as an installment in I-D's "Slumber Sessions" series, this mix exists not only as a hauntingly beautiful piece of art but also as an ambient background piece, intended to be listened to as one zones out and drifts off to sleep. Phaeleh, as a master of such sounds, constructs an eclectic and meandering mix, often comprised of wholly ambient tracks and dipping at times into little more than droning notes and hushed sound effects. In his own words, "in some ways you can think of it as a soundtrack to a dream…I wanted it to be able to exist in the background, without focus, whilst at the same time having elements of detail and beauty scattered amongst the layers of sound unraveling as the mix progresses." In the process, he created perhaps the best mix of 2014 – a definite must-hear.
Tycho – Dazed Mix
Tycho released about a half dozen mixes this year, and all of them could have merited inclusion on this list. But it's this one – recorded for Dazed Digital – that moved me more than any of the others. It's less a showcase of originals and more a collection of similar-sounding tunes from contemporaries/influences. From the opening notes of "Orange Horizon," you're hooked in, and among crackling static and other transitory atmospherics Tycho takes you on an hour-plus journey that lives up to it's hazy moniker.
Claude VonStroke – Movement 2014 Closing Set
Detroit's Movement Festival was one of the most under-discussed events of 2014. Naturally, this also meant it was one of the best (call it hipster logic?). Tech-house wizard Claude VonStroke closed out the festival with this doozy of a set, showcasing his prowess in the field of making something out of nothing (or at least something out of very little).
Liquid Stranger – Infusion Mix Vol. 2 (Shambhala Edition)
From one live set to another; Canadian bass baron Liquid Stranger recorded this mix at this year's Shambhala Music Festival. For those who have watched the DJ/producer move away from his heavy bass roots in recent months with some concern, fear not: this mix is almost entirely comprised of Liquid Stranger originals and remixes. There are moments where the focus shifts away from ferocious bass, and in these moments we hear quality trap tunes, deeper dub cuts, and even some housier vibes. These tangents are always abbreviated, though, and usually before you have time to register the switch-up you're thrown right back into the onslaught.
Lane 8 – Summer 2014 Mixtape
It was a toss-up between two mixes for this Anjunadeep regular. While his Fall 2014 mixtape was great, it was this collection of tunes that edged ahead in my book – mainly because of how well it encapsulates the season through deep, often borderline dark vibes. Opting to showcase the work of others rather than spotlight himself (the mix only features two Lane 8 productions – both remixes), he flexes his curating muscles with great levels of success.
Above & Beyond – Robot Heart Yoga
As if our desires to attend Burning Man weren't already high enough. Above & Beyond journeyed to the Playa this year to play several sound camps, including Paul Oakenfold's particularly stacked "White Ocean." But it's this set – performed Wednesday around sunset at the Robot Heart camp as musical accompaniment to a yoga class led by Elena Brower – that I can't get enough of. The ethereal ambiance is a departure from the norm for the group (although anyone familiar with their acoustic work knows they're capable of it) and it's a perfect soundtrack for what must have been one transcendental yoga session.
Bonobo – Essential Mix
Much like Tycho, longtime trip-hopper Bonobo has taken his solo studio productions and DJ sets and translated them in recent years into a live band experience. In that time his prowess behind the decks certainly hasn't been diminished as a result, as this BBC 1 Essential Mix can testify. It's a chilled-out, easy-listening affair, featuring a healthy mix of his own work and the handpicked work of others. By allowing most of the tracks to play through almost in their entirety, Bonobo manages to hint at the atmospherics of a live set, while still showing off formidable mixing ability with segue after smooth segue.
Jayglo – Summer Lowridin' G-Funk Mix Vol. 2
The second installment in what we hope continues to be an annual tradition, OWSLA up-and-comer Jayglo takes a break from his inventive glitch-hop/dubstep production to bring us something completely different. This fun collection of classic, speaker-rattling gangsta rap and old-school beats is a perfect accompaniment to a summer night of cruising around with no destination in mind – or a perfect escape on a cold winter night as you pine for the summertime.