Prep For Next Month's Camp Bisco With Full Lineup Playlist, AltFreq Can't Miss Sets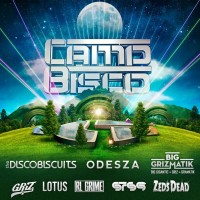 –Words & List by Kevin Madert
A month from today, the snowless slopes of Montage Mountain will be dotted with tents. Music will echo out over the city of Scranton situated in the valley below, and top-notch production will alight the night sky. For the second year running, the four seasons resort will play host to Camp Bisco. The perennial east coast jam/electronica festival boasts an eclectic assortment of talent, topping out near 90 performers.
AltFreq is here to make planning your weekend just a bit easier. Split-second set decisions throughout the weekend won't strain the brain when you're armed with our lineup-encompassing playlist. We also sifted through the bill to compile a shortlist of acts we're especially amped for. Wanna get the most out of your ticket by knowing before you go? Read on, intrepid internetters, and we'll see you on the mountain.
---
Lotus
Jam music and electronic music have long treaded the same paths – enough so that there's a portmanteaued descriptor to denote when the two are fused. Peddling their own instrumental brand since 1999, this Indiana born, Colorado-based group has stolen every festival I've had the pleasure of seeing them play. Expect nothing less at Bisco.
Connect with Lotus: (Official Site / Facebook / Twitter / Soundcloud)
Lil Dicky
Hip-hop with a humorous bent is nothing new. When it outshines many contemporaries who aren't joking around, though, it's worth a mention. Lil' Dicky might spit his bars with tongue pressed firmly into cheek, but his skill behind the mic is serious & laudable.
Connect with Lil Dicky: (Official Site / Facebook / Twitter / Instagram)
Ott
When you can hop from producing for Sinead O'Connor & Brian Eno to working with Shpongle, chances are you're a pretty skilled sound engineer. With four stellar psy-dub albums under his belt – including last year's Fairchildren –  we'll go ahead and call it confirmed.
Connect with Ott: (Official Site / Facebook / Twitter / Soundcloud)
Tourist
Lucky me that a month before Bisco I'm discovering this airy-synthed UK native. His music, as far as I can tell, is part house, part bass, mostly sad, and consistently über-catchy. His debut album U is all these things put to the task of chronicling a life-altering break-up; give it a listen & try telling me you won't be seeing him come July.
Connect with Tourist: (Official Site / Facebook / Twitter / Soundcloud)
American Babies
When not channeling his inner Jerry as a key component of Joe Russo's Almost Dead, Tom Hamilton spends his time with American Babies. His formidable guitar chops shine through in the group's more straightforward rock stylings. Long and short of it, any chance you have to see Mr. Hamilton perform you take.
Connect with American Babies: (Official Site / Facebook / Twitter)
Gibbz
This beautiful human first came to my attention a few years ago via Exmag – "Tilt Mode" is just too much in all the right ways. Gibbz's charismatic crooning shone through brightest, setting the song apart as a result. Now, with an EP and several singles under his belt, he's on the cusp of something big. Catch him this year at Camp so next year when he's headlining you can say "I told you so" nice and loud.
Connect with Gibbz: (Official Site / Facebook / Twitter / Soundcloud)
Luzcid
This Bassnectar collaborator – like many Bassnectar collaborators before him – has far more to offer than that limiting descriptor indicates. A quick glance at his discography clues the savvy listener in; his styles range wide & his list of non-Lorin collaborators runs long. Often psychedelic sound design & an overall penchant for the odd means every set is an adventure, so take a trip with Luzcid this Bisco.
Connect with Luzcid: (Facebook / Twitter / Soundcloud)
Sunsquabi
Landing somewhere between Lotus and Gramatik on the livetronica spectrum, this trio of Coloradans make light-hearted tunes with serious punch. It's the kind of danceable electro-jam funk you can't help but move to, which is a no-brainer in a festival setting. Their latest, Odyssey, is stuffed to bursting with such tunes, and it's a safe bet you'll hear plenty of them on the mountain this July.
Connect with Sunsquabi: (Official Site / Facebook / Twitter / Soundcloud)
---
You can still score tickets to this year's Camp Bisco (taking place July 14-16 at Montage Mountain in Scranton, PA) + hear the full lineup below.
Connect with Camp Bisco: (Official Site / Facebook / Twitter / Instagram)