Below The Fold: Dreamscape 2016's Can't-Miss Regional Acts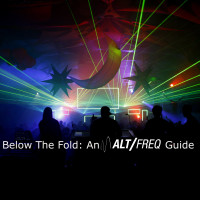 –Written by Kevin Madert
As we've highlighted on several occasions, much of the strength in a Badass Raves lineup lies towards the lower half of the poster. Some of them are established regional names who've built a strong rapport with event organizers and please familiar crowds at event after event. Others may be relative newcomers to the scene (or at least the Badass fold), but thanks to careful consideration in the planning stages they're usually well-suited for whichever event they've been booked.
All this to say, Dreamscape is rife with regional talent that you'd do well to familiarize yourself with. Lucky for you, AltFreq loves supporting local music & the artists who play it. Read on to learn a bit more about our favorite locals slated to perform this weekend at Camp Ramblewood in Darlington, MD.
---
The Banditz
This pair of dapper dudes have been ripping it up in the DMV for years, evolving every step of the way. In the olden days, they warmed up the bins at Dub Nation & Badass events as the Beltway Banditz. A few years of grinding away with booking after booking saw an increase in presence, consistent improvements in live skill, and a slight change in stage name. Hard work begat success; coveted opening slots for the likes of Gent & Jawns and the main man himself Skrillex slid into the picture. The future for The Banditz looks very similar to their social media dank meme prowess: "Lit, fam." Catch The Banditz Saturday at 1am in the City of Dreams. Connect with The Banditz: (Facebook / Soundcloud)
M. Pyre b2b Droosie b2b Toy Maka
If you only glean four words from this blurb, may they be "fuego drum 'n' bass." This trio of local mainstays are laudable talents in their own right, each with years of live performance experience under their respective belts. With their powers combined, things get mighty interesting. Track selection, individual tastes, crowd reading skill, and percentage chance of hearing some jump up are all tripled (if friend of the blog Des McMahon happens to be nearby during their set, the chance of jump up being played increases to 100%). Chances of even a momentary reprieve in the DnB onslaught are inversely affected; bring your best pair of shoes & dive in for the long haul. See this wild b2b2b Friday at 1:30am in the Temple. Connect with M. Pyre: (Facebook / Soundcloud) Connect with Droosie: (Facebook / Soundcloud) Connect with Toy Maka: (Facebook / Soundcloud)
Choppy Oppy
We've given DC-area up-and-comer Choppy Oppy the treatment here on the blog a time or two before. If you were lucky enough to experience the debut of his live set at Nightmare back in October, you know we're not hyperbolizing when we say his late-night set at Dreamscape this year will be something real special. The diversity he's able to pack into his performances keeps crowds on their toes, and the addition of a live element brings his funky vibes to fruition in a highly satisfying manner. Do yourself a favor & close your weekend out with Choppy Oppy & special guests The Al Smith Band. Choppy Oppy performs Saturday at 12am in the Temple. Connect with Choppy Oppy: (Facebook / Soundcloud / Instagram)
Nolweez
Nolweez is his name and hand-picked dubstep speaker-shakers are his game. Another familiar face to those who've been attending Bass Nation & Badass parties in the last few years, this guy doesn't mess around. Even in opening slots – where the headliner often imposes restrictions on what those playing before him can do – he's been able to put together sets with serious flow and plenty of bite. A late night set in the City of Dreams more than likely means he'll have free reign to throw down, and Nolweez unleashed isn't something AltFreq would advise missing. Nolweez plays Friday at 1am in the City of Dreams. Connect with Nolweez: (Facebook / Soundcloud)
1000 Drunk DJs
We mentioned previously that 1000 Drunk DJs' two-hour performance will be the best thing you see all festival. Some might call this "a slight overexaggeration," or "total bullshit," but in either instance they'd be wholly incorrect. When you take four of the local scene's most charismatic, steel-livered darlings, throw them behind a set of CDJs, and put a full bottle of Johnnie Walker in their hands, there's roughly a 110% chance the end result is something spectacular to behold. Will their styles mesh? Will they take their shirts off? Will Jaleel drink enough that he falls asleep? Join us Saturday morning at Poseidon's Playground from 11am-1pm and all will be revealed.
---
Dreamscape tickets are still available for purchase -> http://ow.ly/4nhjmJ. The festival is over 80% sold out, so if you're on the fence now may be the time to hop off.
Connect with Dreamscape: (Facebook / Twitter / Official Site / Event Page)